From concept to creation, we design experiences that excite.
Transform your ideas into reality with our creative team of experts! We are a team of talented designers and developers who specialize in creating custom mobile apps for businesses of all sizes : Let's Collaborate
APPLICATION DEVELOPMENT SERVICES
Our Mobile Application Development Services
Our app development company offers a range of services to meet the needs of businesses of all sizes.
Our team of skilled designers and developers has a passion for creating innovative and engaging apps that provide a great user experience. From concept to deployment, we are committed to delivering exceptional results that help our clients achieve their business goals.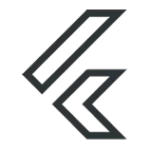 We offer comprehensive end-to-end services, including consultation, design, deployment, and maintenance, all at an affordable price.
With our Flutter app development expertise, we can help bring your app idea to life with exceptional functionality & seamless performance.
Contact us today to learn more about how we can help you leverage the power of Flutter to create a top-notch mobile app.

Our Android development team can assist with everything from creating a simple app to developing complex enterprise-level solutions.
With our services, you can expect a high-quality app with advanced features, a user-friendly interface, and strong security.
Contact us to learn more about how we can help you achieve your business goals through Android app development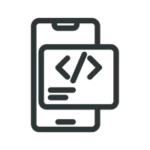 React Native App Development
React Native helps build high-performing mobile apps using a single codebase.
React provides a rich ecosystem of third-party libraries, tools, and plugins, which quickly and easily add advanced features to mobile apps.
Our React Native developers are committed to delivering top-quality iOS and Android apps that meet and exceed our client's expectations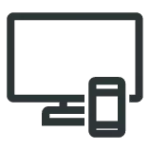 Cross-Platform App Development
Cross-platform app development is an ideal solution for businesses targeting multiple platforms while reducing development time and cost.
Our team of expert developers has extensive experience in developing cross-platform apps using the latest technologies and tools.
We also ensure that your app performs flawlessly across multiple platforms.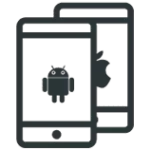 Hybrid app development is a fast and cost-effective way for businesses to build mobile applications that provide a native-like user experience across multiple platforms.
Our hybrid app development services are designed to help businesses save time and money while ensuring that their apps are high-performing and feature-rich.
Whether you need a simple app or a complex enterprise-level solution, our team is here to help you every step of the way.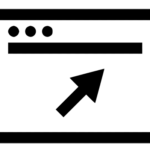 Our mobile browser-based app development services offer custom solutions for businesses looking to create engaging and user-friendly mobile apps that can be accessed directly through a mobile browser.
We prioritize the security and performance of your app, ensuring that it is fast, reliable, and secure.
Contact us today to discuss your mobile browser-based app development needs and see how we can help your business grow.
Our Working Process - How We Work For Our Customers
Developing a vision for the app
Brainstorming the idea
Research the market
Analyze the competition
Understanding the needs
Wireframing of project
Prototyping user interface
Wireframing user experience
Frontend coding
Backend development
Overall integration
Security
Usability
Performance Monitoring
Compatibility Test with different devices
Maintenance
Upgrading
Troubleshooting
Request A Free Consultation
Have a great idea?
Let's get in touch. The coffee is on us!
Freaquently Asked Questions...
Some Common Questions clients ask us.
What is the process for developing a mobile app?
Our process typically involves the following steps: consultation and planning, UX/UI design, development, testing, and deployment. We use an agile methodology to ensure that the app is developed efficiently and meets the client's requirements.
How long does it take to develop a mobile app?
he time required to develop a mobile app can vary depending on the complexity of the project, the features required, and other factors. We provide our clients with a timeline and work closely with them to ensure that the app is developed on time and within budget.
How much does it cost to develop a mobile app?
The cost of developing a mobile app depends on a variety of factors, including the app's features, platform, and complexity. We provide our clients with a detailed estimate based on their requirements and budget.
Do you offer cross-platform app development services?
Yes, we offer cross-platform app development services using technologies like React Native and Flutter. This allows our clients to target multiple platforms while reducing development time and costs.
What is the difference between native and hybrid app development?
Native app development involves building apps specifically for one platform, like iOS or Android. Hybrid app development, on the other hand, involves using a single codebase to build apps that can run on multiple platforms. Each approach has its own advantages and disadvantages, and we work with our clients to determine which approach is best for their project.
What is your approach to app testing?
We take a rigorous approach to app testing to ensure that the app is functioning properly and meets our clients' requirements. This includes manual and automated testing, as well as testing on multiple devices and platforms. We also provide our clients with a beta testing program to gather feedback from real users before launching the app.
Can you help with app store submission and approval?
Yes, we can assist with submitting the app to the app stores and ensuring that it meets all of the guidelines and requirements. We work closely with our clients to ensure a smooth app submission and approval process.
Can you help with app maintenance and updates?
Yes, we offer app maintenance and update services to ensure that our clients' apps remain up-to-date, secure, and functioning properly. We also provide support and troubleshooting as needed.
Do you provide post-launch app analytics and reporting?
Yes, we provide our clients with access to app analytics and reporting to track performance and user behavior. This can help to inform future updates and improvements to the app.